EUGENE, Ore. – Gia is a sweet gal who is super spunky and is ready to go to a loving forever home!
Greenhill Humane Society says that Gia has been waiting at the shelter for quite a while, so she's ready to find a loving home. She's a mixed-breed dog with a lovely brindle-pattern coat who loves to play fetch. Greenhill staff say she gets super excited and animated when they bring the ball out, and she loves to play outside in the fresh air.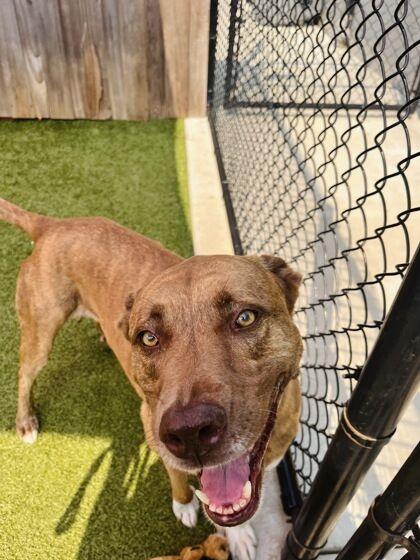 Greenhill staff say Gia can be pretty shy around new people, but once she gets used to someone she's very lovable and has a big personality. Gia wants to be the queen of the castle and would need to be the only pet in the home. She would do best in a home with older kids who can help continue her positive reinforcement training. She is 7 years old, weighs about 67 pounds, and is spayed, microchipped, and up-to-date on her vaccines. Gia is a very special girl who can't wait to find a home of her own!
Gia was Tuesday's Pet of the Week on KEZI 9 News. Every Tuesday, KEZI showcases a homeless pet on the Midday newscast at 11 a.m. and again at 4 p.m.
If you are interested in Gia or the other animals at Greenhill Humane Society, more information is available here.
Greenhill Humane Society is located at 88530 Green Hill Road and is open daily from 11 a.m. to 6 p.m. Its phone number is 541-689-1503. Appointments are available.