EUGENE, Ore. -- COVID-19 related hospitalizations are once again increasing to alarmingly high levels across the state, straining medical centers, according to the Oregon Health Authority.
This comes nearly two years into a pandemic that has pushed the health care industry to its limits. Some of the medical professionals who've been battling the virus on the frontlines since its beginning are now facing burnout and exhaustion.
"We're tired, but I know everybody's tired. Just bear with us. We're doing the best we can," said Candace Maccarone-Janes, an intensive care unit nurse at Good Samaritan Regional Medical Center in Corvallis.
The ICU is a place for the sickest patients where every day patients fight for their lives.
"If you're in the intensive care unit, often you're fighting for survival, you're fighting for your life," said Dr. Brian Delmonaco, the medical director at Good Samaritan Regional Medical Center's ICU.
There are few people that know the challenging battle against the virus better than Bruce Sams.
"I did have the thought: I hope this isn't the last time I see my wife," Sams said.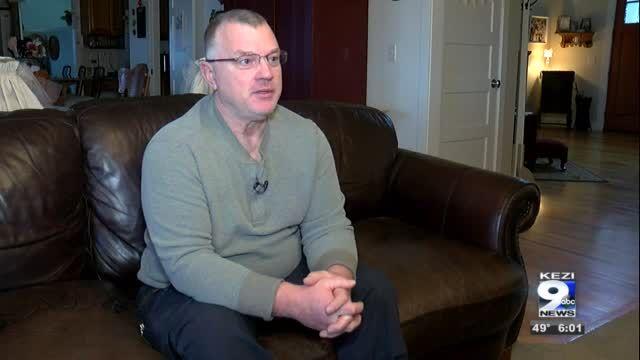 Sams is an Albany resident who has been a firefighter in McMinnville for years. But in August 2020, he found himself fighting for his own life in an ICU bed at Good Samaritan Regional Medical Center.
"When I first woke up, I can't tell you that I had any real or coherent thoughts. I know that I was looking around trying to figure out where I was and what was going on," Sams said.
At the end of July, Sams said he was returning to the fire station after a call when he started to feel sick. He said he went home early, but over the next few days, his symptoms got progressively worse. A COVID-19 test confirmed he was positive for the virus.
"I sat on the couch for a week just not feeling good," Sams said. "And on the fifth or sixth day, breathing was becoming noticeably more difficult and on the eighth day my wife took me over to the emergency room in Corvallis."
He said he was admitted to the emergency room on Aug. 10.
"I don't think everybody always thought I was going to be fine," Sams said.
Sams said he doesn't remember much from his stay in the ER. After several days, he was intubated and moved into the ICU. That's where he met Delmonaco.
"He was very, very sick and was one of those patients with COVID who had a high chance of dying," Delmonaco said.
He said the main reason Sams is still alive today is because of the Seraph 100 filter.
"The filter is a device that is a type of procedure called extracorporeal blood purification," Delmonaco said. "It actually filters out the virus that our patients have from their blood and then it also filters out some of the cytokines and inflammatory proteins that are causing damage to the lungs mainly, so it has a mortality benefit. It's not recommended for all patients but some of our sickest patients so we've had some good success."
Good Samaritan Regional Medical Center is the first and only hospital in the Pacific Northwest using the filter, according to a spokesperson for the hospital. It was first used there in April and has since been used on at least 15 critically ill patients, including Bruce.
"With the filter, within the first 60 hours of being in the intensive care unit, the mortality rate has decreased by about 37% to 42%," Delmonaco said.
But Sams said he's still feeling the aftereffects of the virus.
"Because I don't breathe very well still, I don't have very much at all endurance or stamina," Sams said. "It was really hard for probably two months, and it's not easy today. But it is easier every day. Certainly every week. It's noticeably better."
Sams is one of the lucky ones. Just like the vast majority of patients fighting COVID-19 in the ICU, he was unvaccinated. Last week, the Centers for Disease Control & Prevention released data saying the risk of hospitalization is eight times higher for unvaccinated people than for those who are fully vaccinated.
The ICU in Corvallis is a smaller unit with 12 beds.
"Our intensive care unit is, if not full, nearly full most days and nights and our staff is quite busy," Delmonaco said.
The virus has already claimed the lives of well over 5,000 Oregonians and more than 800,000 people nationwide, according to health officials.
"We definitely have had more death in our ICU in the last two years than we have in my career," Maccarone-Janes said.
Across the state, more than 900 people are currently in hospitals with COVID-19. That's about 300 away from the peak of the Delta surge recorded on Sept. 1. 
The latest projections from Oregon Health and Science University predict omicron hospitalizations will eclipse that number by the end of January. It's data Laura Hennum, CEO at Good Samaritan Regional Medical Center, said she has been watching closely.
"Right now you just have such an overwhelming demand for health care services, we don't have enough people to provide the care," Hennum said.
She said there's been pent-up demand for hospital beds because many people shied away from seeking medical care the past two years. 
"This is valuable real estate inside of any hospital, and it's critical that we keep our beds available for those who need the beds the most," Hennum said.
Hennum said that delay in care is catching up to many people who waited too long. It's a trend Maccarone-Janes said she's seeing as well.
"People held off getting checked out for their heart and then they had a heart attack, or they've been having headaches and they come in and they've had a brain bleed," Maccarone-Janes said.
However, Hennum is encouraging people who think they need medical care to seek it.
"One of the things I think is important to share with the community and individuals is if you need care, you should seek it," Hennum said. "I know a lot of individuals are concerned about how impacted our emergency rooms are, and we are very busy. If anyone is experiencing respiratory distress, they should go to the emergency room."
In some hospitals, caregivers are getting out of the business at higher rates after nearly two years navigating challenges posed by the pandemic in addition to their other work. Maccarone-Janes said some of her former co-workers have recently left the industry in favor of less stressful jobs or to become traveling nurses.
"Even though there's an empty bed, doesn't mean there's somebody to take care of that patient," Maccarone-Janes said.
But Maccarone-Janes, who has been working as an ICU nurse for 10 years at Good Samaritan, said she still enjoys her job.
"I still love my job. I love being a nurse, but I think the passion is getting a little… I need a little bit of a refresher; I think we all do," Maccarone-Janes said.
Through all of this, doctors say there is a light at the end of the tunnel with the vaccine playing a big role.
"A lot of people are getting sick and testing positive for COVID, and thankfully, the vaccination rate for our hospital staff and our community is significantly high and that helps keep our community out of the hospital," Delmonaco said.
With the omicron variant, more patients are being admitted to hospitals around the country than ever before, but the vast majority are not sick enough to end up inside the ICU, according to Delmonaco.
"There's been some new therapies, some repurposing of old therapies that have been helpful for patients with COVID-19, and then we've learned a lot through the two-plus years of the pandemic on how to help people who are really sick from COVID," Delmonaco said.
For Sams, his life is much different than it was before he contracted COVID-19. He said he's now on light duty at the fire station. But he's optimistic that the technological advancements made recently and the knowledge medical providers have gained when it comes to treating COVID patients will save additional lives in the future.
"I think there are technologies and treatments that are going to hopefully be found and used," Sams said.
He said he's grateful for the staff at Good Samaritan Regional Medical Center.
"I'm very grateful. I enjoy my family, my wife," Sams said. "God still seems to think that I have a purpose here and that I can stay here."