FLORENCE, Ore. -- Some Siuslaw High School students are pushing back against two proposed COVID-19 related resolutions. The district's school board is holding a special meeting Wednesday night to hold a vote.
This comes after dozens of students protested in front of the district's office during their lunch period Wednesday morning, calling for the board to vote against both resolutions. They held signs in opposition to a proposed mask mandate for middle and high school athletic events and chanted, "Vote no, vote no."
"We're pretty frustrated that at this point the school board is looking to increase the precautions that we'll be doing around school," said Camp Lacouture, a senior at Siuslaw High School.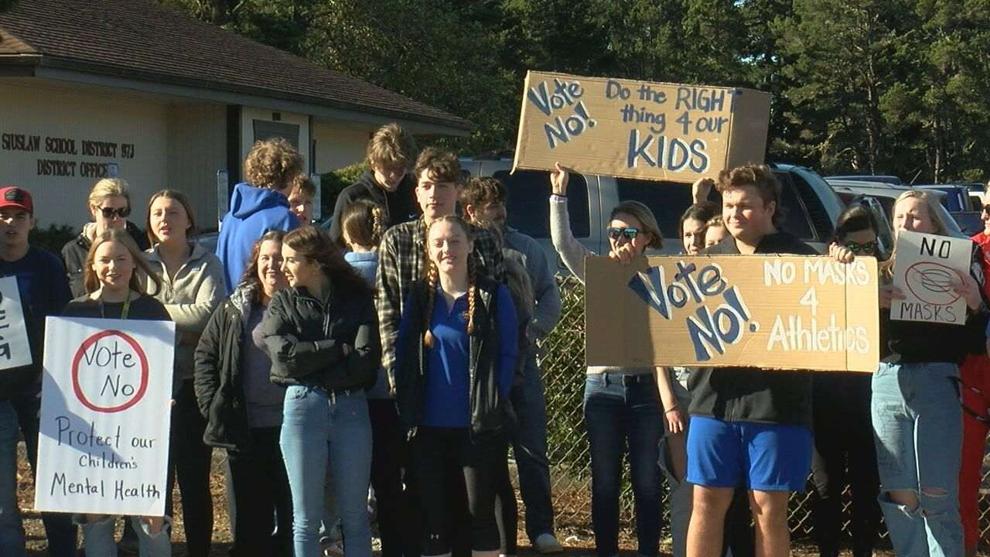 If passed, one of the resolutions would require masks for student-athletes and coaches during athletic events. This would last through the winter sports season.
"With the current surge in illnesses hitting the campuses, athletic practice sessions and travel to and from contests are resulting in increased COVID-positive contacts with the transmission of illness," a district official explained in the meeting's agenda.
This rule was in place during athletic events in the 2020-2021 school year, according to the district.
"I've almost drowned in my own mask sitting there inside a football helmet," Lacouture said. "While playing basketball, it's really, it's miserable."
His sister also competes in sports as part of the high school teams, and she agreed.
"We get headaches and all these bad, bad things," Jane Lacouture said. "I just don't support it."
Other students also weighed in on the proposal.
"I cannot breathe, cannot communicate with my teammates whatsoever," said Cate Waggoner, who plays basketball for the high school. "It takes the love right out of it and makes it quite miserable for all of us."
A second resolution would prevent high school students from leaving campus for lunch if transmission of cases related to off-campus lunch travel is confirmed. This rule would remain in effect from Feb. 7 until March 18.
As some students protested the proposed resolutions, Siuslaw High School senior Garrett Hunter watched from the opposite side of the road.
"It's everyone's choice to do what they feel and deem is necessary, but I am all for keeping children and everyone else safe and these masks have been proven to do so," Hunter said.
The school board meeting started at 6 p.m. A link to the meeting is available on the district's website.