UPDATE: Oregon State Police have identified the people injured and killed in May 18's fatal crash on Interstate 5. Court records show the driver facing criminal charges is set to be arraigned on May 30.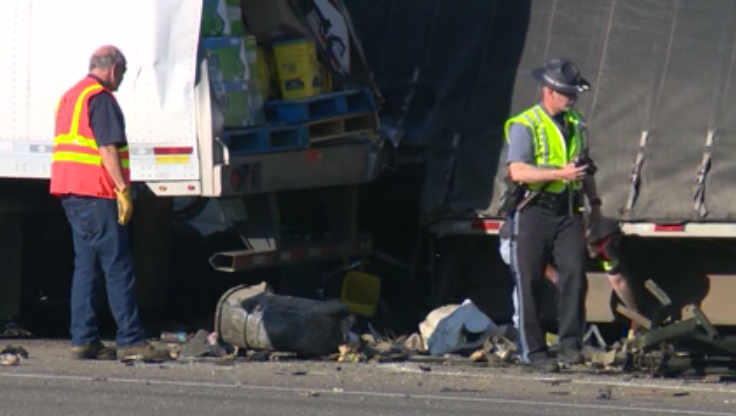 SALEM, Ore. – A driver involved in a gruesome crash that left seven dead on Interstate 5 north of Albany on Thursday afternoon is facing numerous criminal charges, Oregon State Police reported.
According to OSP, they responded to a three-vehicle crash in the northbound lanes of I-5 near the Santiam Rest Area at about 2:06 p.m. on May 19. According to troopers, a semi-truck was traveling north on the interstate when it drifted off the east shoulder of the roadway. OSP said the truck hit a Ford Econoline passenger van with 11 people inside, pushing it into another parked semi-truck and causing extreme damage to the van.
OSP said six people in the van were killed in the crash, and another passenger was flown via Life Flight to the hospital, but did not survive. The other four occupants were also injured and were taken by ambulance to a nearby hospital. The driver of the parked semi-truck was not injured, OSP said.
On May 22, Oregon State Police released the names of the deceased and injured individuals who were in the passenger van:
Adan Garcia Garcia, 40, of Woodburn- Minor injury
Hector Galindo, 45, of Gervais- Serious injury
Maria Flores Martinez, 60, of Salem- Serious injury
Jose Eduardo Solis Flores, 41, of Gervais- Serious injury
Eduardo Lopez, 31, of Gervais- Deceased
Alejandro Jimenez Hernandez, 36, of Gervais- Deceased
Josue Garcia Garcia, 30, of Salem- Deceased
Luis Enrique Gomez Reyes, 30, of Woodburn- Deceased
Javier Suarez, 58, of Woodburn- Deceased
Alejandra Espinoza Carpio, 39 - Deceased
Juan Carlos Leyva Carrillo, 37, of Woodburn- Deceased
OSP said the operator of the semi-truck that crashed into the van was taken for medical evaluation, then arrested and sent to the Marion County Jail. Lincoln Clayton Smith, 52, of North Highlands, California, was charged with driving under the influence of intoxicants, reckless driving, seven counts of second-degree manslaughter, and three counts of third-degree assault. A criminal investigation is ongoing.