EUGENE, Ore. -- Some local businesses are fed up with campers parking outside their buildings and taking up parking spots.
The homeless crisis in Eugene is nothing new, and as local officials work to respond, some business owners say the problem has gone too far.
Rick Holifield, co-owner of Hunter Brake & Alignment on Tyinn Street, said it's not just about the parking. The bigger issue revolves around his customers safety.
"I have gotten calls canceling appointments; customers feel unsafe coming into my shop. So, we are having an issue with losing businesses because of this issue and the state and local leaders have really dropped the ball," Holifield said.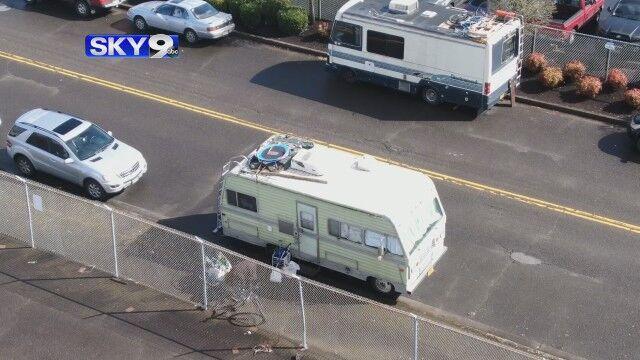 He said things really took a turn for the worst when the state decriminalized drugs.
"Every morning we show up, and it's like who's going to be at the shop, and are you going to have to pick up how many needles and feces? I had to bring a shovel for the feces right off my front door," Holifield said.
Holifield said when they opened up the shop 12 years ago, he never imagined this would be his reality.
"Something really needs to be done at the city level to move these campers out, but furthermore at the state level, we need to criminalize drugs again, that's the big picture," Holifield said.
Holifield said he's thankful the Eugene Police Department put up a camera system but said more needs to be done.
"It's not a good situation; some of them are violent. One of them called two of his pit bulls to attack me," Holifield said.
Across the street at Sweet Tree Cafe and Espresso, manager Kevin Delgado said the campers have also caused them to lose business.
"I'm assuming people don't want to come in because of the aesthetic. People living in the RVs are loitering, asking customers for food and they'll leave a bunch of garbage all over the street. People just don't want to see that," Delgado said.
Delgado said city officials recently put No Parking signs up in the area, which he said have helped the situation. But unfortunately, he said it only works temporarily.
"They start parking there regardless because they think they won't get towed," Delgado said.
It's an ongoing situation that city official Kelly McIver said is very apparent but isn't going to get fixed overnight.
"It's something that we didn't get here overnight, and we won't be able to get back out overnight. It takes a balance of trying to find ways to help people who can benefit from assistance and find better places for them to be, and at the same time, be able to have the resources to address the impacts of these things and how they happen to our community and affect livability and business prosperity," McIver said.
McIver said right now their biggest issue is they're outnumbered. The city hears business owners' concerns and are paroling hard-hit areas more frequently and are actively working to help minimize the issue, McIver added.
"We just have way more of this happening around the community than we have the ability to address it quickly or completely," McIver said.
But Holifield and Delgado said they'll believe it when they actually see things change.
"It's just kind of a feel good on the phone situation when we call, but nothing changes," Holifield said.