EUGENE, Ore. -- The city of Eugene's power consumption needs are expected to increase in the near future as more people switch to electric vehicles for transportation and electric heat pumps to warm their homes. With increasing demand comes increasing need for power production.
Fortunately, the Eugene Water and Electric Board has an Integrated Resource Plan to help them test and prepare their strategies to meet this increasing demand. EWEB general manager Frank Lawson gave a presentation to the Eugene City Club on January 20 explaining the utility's position, how it came up with the plan, and how its findings will inform their future operations.
At the presentation, Lawson stressed that the IRP was a planning tool and analysis process – it does not represent a step-by-step roadmap for the future of Eugene's power generation. The IRP looks at millions of variables and uses advanced software to calculate what combination of energy sources EWEB would have to use to meet the community's energy needs. Lawson said that although EWEB would likely stop having a surplus of energy in the coming years, according to the IRP the utility is confident that it will be able to provide the necessary energy to the community.
EWEB is asking the public for comment on its plan for the future. They encourage residents to visit their website to ask questions and offer input. EWEB also said it will be speaking with community organizations in the coming weeks to get their thoughts on the plan.
At the presentation, Lawson said the current power infrastructure would be sufficient to provide electricity to the community until at least 2026, when peak need for electricity is first expected to outstrip production. The IRP says this is when resources beyond EWEB's foundational hydropower sources will have to be tapped. Those resources would include lithium-ion batteries, wind power, increased efforts to limit energy use, and possibly even nuclear reactors starting in about 2040.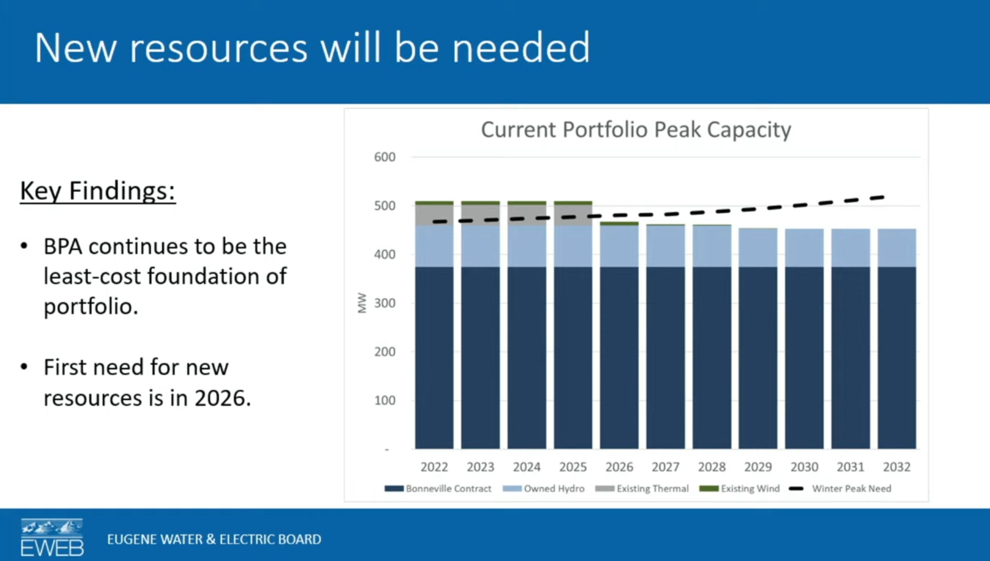 Lawson said that eventually using nuclear power is only a distant possibility, and not a sure thing. He said that due to current conditions and federal regulations, utilities in Oregon cannot fully tap into nuclear power as an energy source until questions about waste disposal are answered. If nuclear power was to be used, Lawson stressed that the reactors would be smaller and much safer than those involved in disasters such as the Fukushima or Three-Mile-Island meltdowns.
Lawson took a few moments to address concerns of attacks on the power grid, especially in light of similar attacks in other states. Lawson said EWB recognizes all kinds of threats to electricity and water infrastructure, and has plans in place to mitigate the impact if the power grid is attacked or damaged. Lawson expressed confidence in EWEB's flexibility and redundancy to handle attacks that may cause disruptions in service.