LANE COUNTY, Ore. -- With wildfire season underway, and some small fires already burning in southwest Oregon, state and federal officials are talking about ways to fund firefighting efforts.
On May 17, Governor Tina Kotek (D-Ore.) announced she was adding over $200 million in funding for the state's wildfire protection system to her budget request to the state legislature.
"We need to continue to support things that have worked," Kotek said in a press conference. "We need another $207 million to continue our advancements in wildfire protection -- not only -- both resilience and protection and response, and I would hope legislators would support that."
In Washington, D.C., Oregon Senators Jeff Merkley and Ron Wyden are working on legislation to create national recreation areas across the state. That distinction would require wildfire prevention strategies to continue in the region.
"The bill requires the Bureau of Land Management to take preemptive steps to reduce wildfire risks in the new recreation areas," Wyden said at a Senate committee hearing on May 17. "Including the construction of new roads to take to implement fire risk reduction plans and for public safety."
State officials have provided funding to fire departments and districts for additional firefighters, fire engines and fire risk reduction programs. Much of that funding comes from 2021's Senate Bill 762.
"Senate Bill 762 was a major investment in in fighting wildfire in Oregon and it was a huge help for not only the Oregon Department of Forestry but other wildfire agencies in the state," said Jessica Prakke, the Public Affairs Officer of the Oregon Department of Forestry.
The legislation provided $220 million to agencies to modernize and improve wildfire preparedness, response and resiliency.
"It was a huge investment in protecting Oregon from wildfire and it has done an immense amount of good across the state," Prakke said.
She said the money also went to expand the state's network of wildfire detection cameras. One such camera caught a fire caused by a lightning strike in Lane County.
"If we hadn't had this camera detect the smoke so early on, some people it may not have been detected until the next day, at which point it would have been much larger and, you know, had a lot more damage to it," Prakke said.
On the night of May 15, a camera alerted ODF staff to some smoke in an area between Sharps Creek and Mosby. A staffer monitoring the cameras dispatched fire crews to the scene, who had the blaze under control within three hours of it being picked up on video.
Prakke said there are nearly 100 cameras at 60 sites across the state. The cameras can view hundreds if not thousands of acres at a time. ODF personnel, along with software, monitor the live images for smoke. The system also has a mapping system that can help pinpoint the smoke for dispatchers and first responders.
In a press conference earlier this month about the state's wildfire outlook, officials said the cameras are a crucial part of wildfire response.
"We continue with our statewide smoke detection system and smoke detection cameras are a critical element to the technology that provided success," ODF's Mike Shaw said on May 9.
But the cameras are just one tool used to detect fires earlier, allowing firefighters to tackle blazes before they get out of hand. Tools like "multi-mission aircraft."
"It's a single-engine airplane that goes up after a lightning strike or a lightning storm goes through to survey the surrounding area," Prakke said. "Once that fire is spotted, they can send as soon as they're in cell service, they can send all the pertinent information down to dispatch to then send it to the fire engines en route."
Senate Bill 762 was a great start in investing in wildfire response, she said. The tools and efforts that came out of the funding helps firefighters contain blazes sooner, ultimately using less resources and saving both taxpayers and potential victims from paying for lots of damages.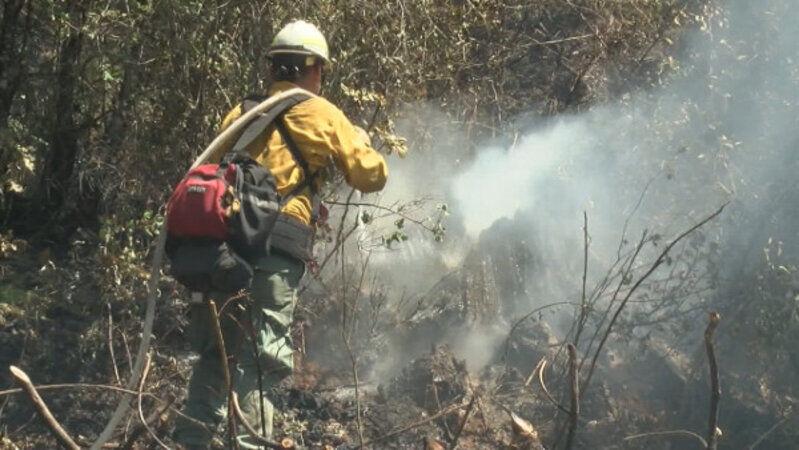 ODF is looking for more firefighters for the season. In terms of other support, Prakke said it is hard to pinpoint because fire is an "ever-changing" landscape.
"It's really difficult to put kind of like, 'here's how it's gonna go,'" she said. "But the more that we have that support in, you know, preparing for those kind of 2020 situations, I guess you could say the better Oregon will come out in the end."
In the end, the public has a large role in keeping everyone safe.
"The best way to stop wildfire is for people to keep wildfire prevention at the top of their mind," she said. "About 70% of all wildfire in Oregon is human caused, and so the less that we can contribute to wildfire on our parts, the less our resources our resources are strained to fight other causes of wildfire."