EUGENE, Ore. -- A controversial assignment was given in a Churchill High School health class where students were asked to write a short story depicting a sexual fantasy.
Churchill's principal said in an email to parents that the school uses a curriculum in its health classes called OWL, meaning Our Whole Lives.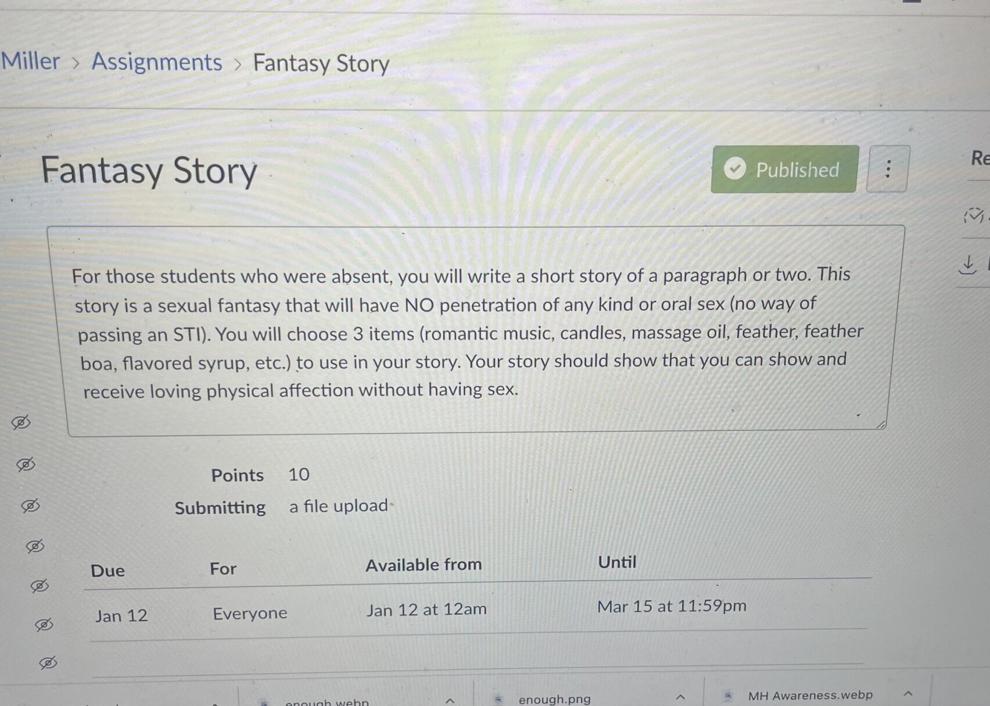 In the time since that assignment went viral on social media, many parents voiced their concern and displeasure. Some, however, shared other assignments given in the same class that caused equal concern.
An assignment from February called "With Whom Would You Do It?" involved a spinning wheel on the screen of the classroom. The wheel was labeled with various sex acts. When the wheel stopped on one of the acts, students were asked to write the initials of both a boy and a girl in the class that they would do the activity with.
Justin McCall is the father of a student in the class, and his daughter felt the assignment was too much.
"My daughter was very, very, very uncomfortable in the classroom," McCall said. "Especially when he put up the generated spinning wheel and it had anal penetration and oral sex up there. Her and her best friend did not participate in that. But they still got graded."
McCall questioned why the assignment was given in the first place if participation had no impact on the grade.
Churchill's principal also said in the email the school's administration would be working with the district office to review the context of the assignment and ultimately review and replace the OWL curriculum.
Jennifer Geller is a former member of the Eugene School District 4J School Board, and she was on the board in 2016 when the board approved to adopt the curriculum in the district. Geller was familiar with the curriculum because her children had gone through OWL programs at her church.
Geller said her children learned from trained adults, and called the program accurate, comprehensive, and good for the district.
"There's a range of curriculums out there," Geller said. "And, from my perspective, and my experience, this seemed like an age appropriate, comprehensive sexuality program that served my children and me well."
Churchill parents have not received any new updates or information from the school since the original email was sent Thursday. One parent who wishes to remain anonymous shared that his daughter said the school will not be taking action against the teacher who gave the assignment. The teacher also works as a Churchill football coach. The Churchill athletic director confirmed that at this time, the school will not be making any changes to its football staff.