BLUE RIVER, Ore. -- The Holiday Farm Fire destroyed much of the McKenzie River valley in September 2020, burning down homes and businesses. It left piles of rubble made up of burnt metal and ash.
For many residents, there was nothing left in the destruction that would be remotely useful. 
However, local organizations joined together and decided to use parts of what was left to create something new.
"How can we make a piece of remembrance that's permanent in this community?" said Sarah Koski with Love for Lane County.
Love for Lane County, along with the Eugene's Arts and Business Alliance, got together with Jud Turner, a metal sculptor in Eugene.
Turner grew up taking trips with his family to the McKenzie River area and remembers the beauty of it before the fire.
"It's really heartbreaking to see how much people lost and how unsalvageable most of it is," said Turner. "There's no real way to emotionally prepare yourself for what you're going to see."
Turner took several trips up to the McKenzie River valley earlier in 2021 to source materials from burned-down houses and businesses, all parts that were donated by community members.
"Some pieces were decorative, lawn furniture or patio tables," said Turner. "Other times I couldn't even tell what it was, things were burned so badly."
For months Turner worked to create a Phoenix, a mythological bird that is known for rising from the ashes. It measures roughly 14 feet tall, and is named Viribus, which is Latin for "strength."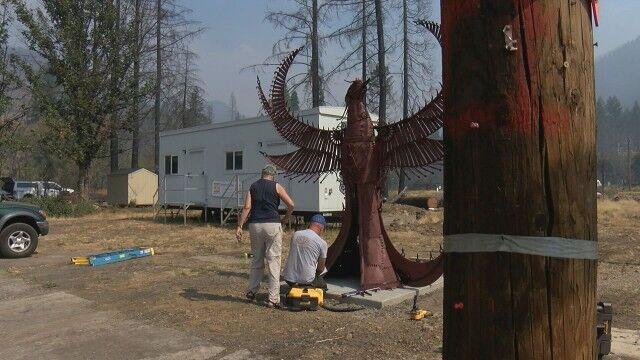 In the center of the Phoenix is a vessel of water from the McKenzie River, something Turner made sure to add.
"Water from the McKenzie River is in a vessel in the heart of the Phoenix because it's the heart of the community. I really wanted that to be included. Water is the opposite of fire," said Turner.
On Aug. 26, Turner finally brought the sculpture up to its final resting place in the town of Blue River.
It sits right across from where Melanie Stanley's home and business used to sit. Both were destroyed in the fire. 
Stanley said this sculpture is both a tribute to their past and to the future because pieces are made from both residents who will rebuild and from those who have decided to not return.
"Because of this fire, we've lost a lot of families that were our older families that have been here for generations. The older sections of them aren't coming home. They can't withstand the rebuilding process," said Stanley.
Stanley is considered the unofficial mayor of Blue River, so she won't be leaving the area anytime soon. She also made a point to donate to the sculpture herself, not using materials of her own, but rather from her late mother.
"It was super important to me to get that piece in there because I knew it would be in Blue River, I just didn't know where," said Stanley. "This town was everything to her."
Now, it means even more to have it right across the street. 
"I'm super excited because then I get to see it everyday. She'll be forever memorialized in that sculpture."
The Phoenix now stands watch not only over her but the whole town. It is a symbol of rebirth for an area that has lost so much.
It's a way for residents to picture what the road ahead will look like, one that doesn't seem so daunting when you have a bird's eye view.
"We are going to rise," said Stanley. "Our community is stronger than it realizes."