LANE COUNTY, Ore. -- Rural fire districts in Lane County are finding it harder and harder to keep up with growing demand and limited resources.
Besides fire calls, rural fire agencies respond to a number of other hazards.
"That's one thing people forget about rural fire districts," said Coburg Fire Chief Chad Minter. "We respond to all hazards. It's mostly medical calls but fire, car accidents; you name it. If they don't know who to call, they call us."
Plus, both Coburg Fire and Rescue and Dexter Rural Fire District report seeing a higher call volume in recent years.
Dexter Fire Chief Matt Peterson said they responded to 527 calls in 2021. In 2015, there were 397 calls. Dexter's Fire District includes all of Highway 58 from milepost 8 to milepost 20. Coburg's Fire District covers 32 square miles from east of the Willamette River to west of the Coburg Hills.
"Most fire districts in Lane County, rural fire districts, are experiencing money problems," said Minter. "The cost of doing business is going up and we're being asked to do more."
But with rising costs all around, fire chiefs said it is harder to purchase necessary equipment and hire staff.
"We have water rescue equipment, medical, structure fire, wildland," said Dexter Fire Chief Matt Peterson. "This stuff is typically pretty expensive. A pair of turnouts costs about $3,000 to $4,000. A pair of air packs costs about $8,000 and ours is set to expire next year so that puts us at a disadvantage."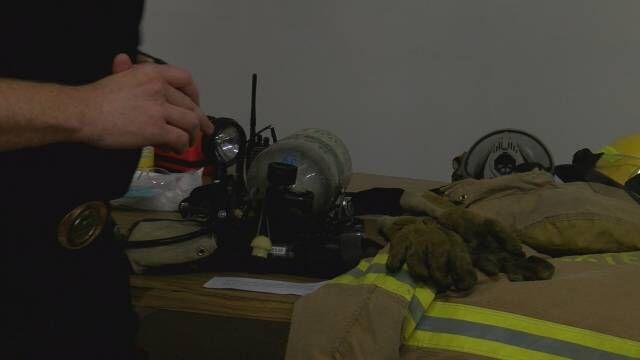 In addition, Dexter Fire reported seeing an 8 to 14% increase from equipment manufacturers this year.
Peterson said it's also more difficult to attract firefighters because of the wage gap between local fire districts.
While a starting annual salary at Dexter Fire would be around $26,500, at a neighboring fire district the annual pay is $43,000.
Because rural fire districts like Dexter Fire and Coburg Fire depend on solely local taxpayer money, with the exception of a few grants, the rise in costs hits them especially hard.
This is why volunteers are crucial for rural fire districts. The two districts operate 24 hours, seven days a week. In order to be on-call, they depend on the work of volunteers.
"During the day, we're paid staff," said Coburg Fire Chief Chad Minter. "After 5 o'clock until 8 o'clock in the morning, this is a volunteer fire department."
But over the years, both districts said they've seen a rapid decline in volunteers.
"When I started back in 2003, volunteers were more or less plentiful," said Peterson. "But times have changed and prices have increased."
Plus, the pandemic has made matters worse.
"It's hard to convince people to come down here and spend that much time on training and running calls on a normal time frame," said Minter. "But when you tell them to go to people's houses and possibly be exposed to the pandemic. Obviously, people aren't coming down here to volunteer."
Fire agencies also had to consider extra costs with personal protective equipment.
"For a while, it was hard to get PPE and masks, gloves, safety glasses, the price increase that occurred with that," said Peterson.
Peterson said he is constantly working around his limited budget to make sure money is only spent on the most essential needs.
Both Dexter and Coburg Fire districts are actively looking for volunteers.
"It's not all about firefighting, not everyone has to do the dangerous part of firefighting," said Minter. "All of our people mostly run medical calls."
Peterson also encourages the community to reach out.
"We're always looking for good quality people to volunteer. You don't have to live in our community," said Peterson. "If you're willing to help out in any capacity, we're always willing to look at options and be accommodating as best we can."