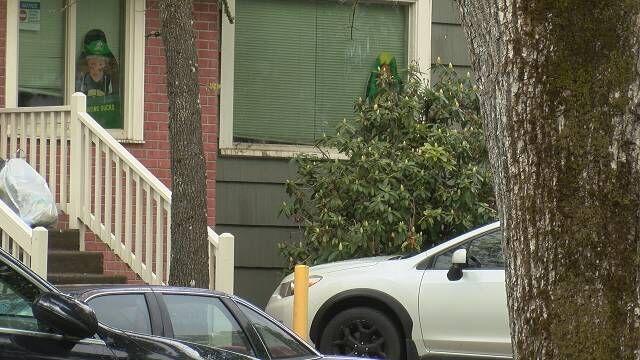 EUGENE, Ore. -- Three officers were injured while trying to arrest a man who stood in front of a patrol car, blocking it from leaving the area after police cleared a mother's day weekend party Saturday night, Eugene police said.
Officers responded to a home in the 1300 block of Ferry Street in Eugene at about 10:15 p.m., police said. This particular home was known to officers as a party hotspot and ranked 6th out of the top ten locations in recent years with 44 calls for service related to noise and alcohol since March 2020.
When officers arrived, they found hundreds of people in and around the home, police said. They contacted the residents to clear the party, and all residents were cited for prohibited noise, with more charges forthcoming under the city's unruly gathering ordinance.
Officers estimated over 100 people leaving the home, including some who appeared to be mothers of those present. As officers were attempting to leave, a group of people in the street refused to clear out of the roadway, according to police.
One man stood his ground in front of a patrol car attempting to exit the area, despite siren and verbal admonishment, police said. An officer tried to arrest the man, who was later identified as Portland-area resident William Crever, 21.
Crever reportedly pulled away from officers and hit one officer in the face which caused injury to his face and nose. As three officers struggled against his attempts to escape, a large crowd surrounded them. One woman who identified herself as Crever's mother had to be pushed away to allow the officers to complete his arrest.
Based on the crowd behavior and concern for the officers' safety, officers from Eugene Police, Lane County Sheriff's Office, Springfield Police Department, and Oregon State Police responded to the area to assist, and several other calls for service went unanswered while this situation was stabilized, according to the Eugene Police Department.
Two other officers involved sustained injuries to their hands while struggling with Crever, who was uninjured and remains lodged at the Lane County Jail, police said.
 "This situation is out of control," said Eugene Police Chief Chris Skinner. "It was only two weeks ago that we had a party that included parents and college-age individuals on 16th between Patterson and Hilyard, create a drain on police resources for this city. Once again our law enforcement officers were called by community members to step in and help with an out of control party. Three of this community's police officers were injured while trying to effect an arrest and gain control of the situation. I'm frustrated and angry with the blatant disregard for overall community safety and the lack of respect these students and parents showed our community and public employees."
Crever is facing multiple charges including assault on a public safety officer, resisting arrest, and disorderly conduct.
All residents at the home in the 1300 block of Ferry street were cited for prohibited noise. police identified them as Luke Thompson, 20, Braden Rice, 21, Max Johnson, 21, Rory Bradford, 21, Derek Hogan, 21.